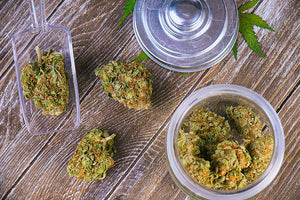 Delta-8 THC vs Delta-9 THC
When most people think of THC, they think of delta-9 THC – the cannabinoid that can get you high when smoked, eaten or vaped. However, delta-9 is just one form of THC that can be naturally produced in cannabis and hemp plants. So, what are the differences between the cannabinoids and how could delta-8 be a good choice for you? Read on for a simple breakdown of delta-8 THC vs delta-9 THC.
Delta-8 THC vs. Delta-9 THC: Side-by-Side Comparison
The "8" in Delta-8 indicates the location of the chemical bond – which is only one spot over from that of Delta-9. Thanks to these structural similarities, Delta-8 also shares many of the same properties as Delta-9 THC (euphoric, relaxing, body and mind effects, etc.). However, because of the minor chemical differences between the two, there are also some notable differences.
Like Delta-9, Delta-8 THC also binds to CB1 receptors. But because it is more stable and mellow than it's potent THC cousin, Delta-8 produces a slightly lesser effect, specifically in terms of its psychoactive properties. Many of the negative side effects of Delta-9 THC are much milder with Delta-8, and users don't experience nearly the intense scope of anxiety, paranoia, personality issues, etc., as is common with regular marijuana. 
Legality 
As you probably know, marijuana is not legal on a federal level within the United States. The push for legality has been largely left up to the individual states. So far 34 states have legalized it for medical or recreational use.  
The legal fate of Delta 9 THC has been directly affected as a result. Any amounts over 0.3% are not legal at a federal level, and the state level depends entirely on their local marijuana laws.  
However, Delta 8 is still technically legal on a federal level. That's because of the ambiguities of the 2018 Farm Bill, which legalized hemp production. There is nothing within the bill that prohibits deriving Delta 8 from hemp and creating products with the compound.  
The psychoactive nature of Delta 8 has prompted a fair number of bans at the state level, though. Currently there are 15 states that restrict the sale and use of Delta 8 products, with another 6 states where legal action is pending.  
So while Delta 8 is more widespread at the moment than Delta 9, how long that will last has yet to be determined. 
Availability  
If you happen to live in a state where you can safely buy and consume Delta 9 THC, then congratulations. Head on down to your local dispensary to get what you need. Online options are a bit more limited though, given that shipping across state lines is prohibited.  
The availability of Delta 8 is a different situation. Since it's federally legal, Delta 8 can be shipped across state lines. So there are a lot more online retailers for Delta 8 products as a result. However, most reputable companies will not ship to states where Delta 8 is illegal for obvious reasons.  
Delta 8 can also be bought from physical locations. This is where you might want to exert a degree of caution.  
For instance, you probably don't want to buy it from a gas station or any sketchy shops. Like other supplements, Delta 8 products are not regulated by the FDA, which means there's an abundance of low quality products that could contain a myriad of unwanted impurities.  
Whenever you buy Delta 8, it should be by a recognizable and trustworthy brand. If they don't have a website with information about their production process, as well as lab results available on demand, then you should dismiss them entirely.
---